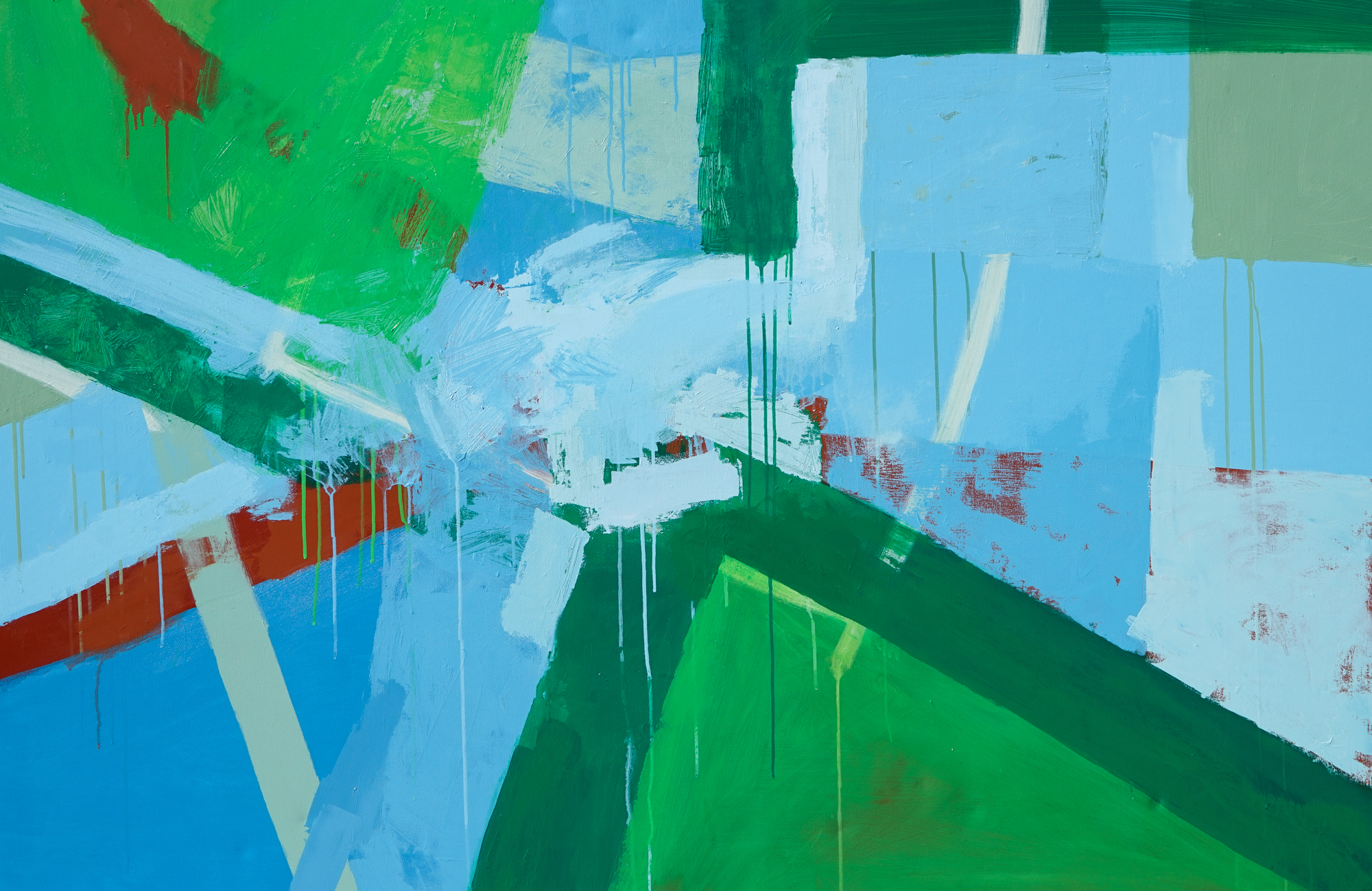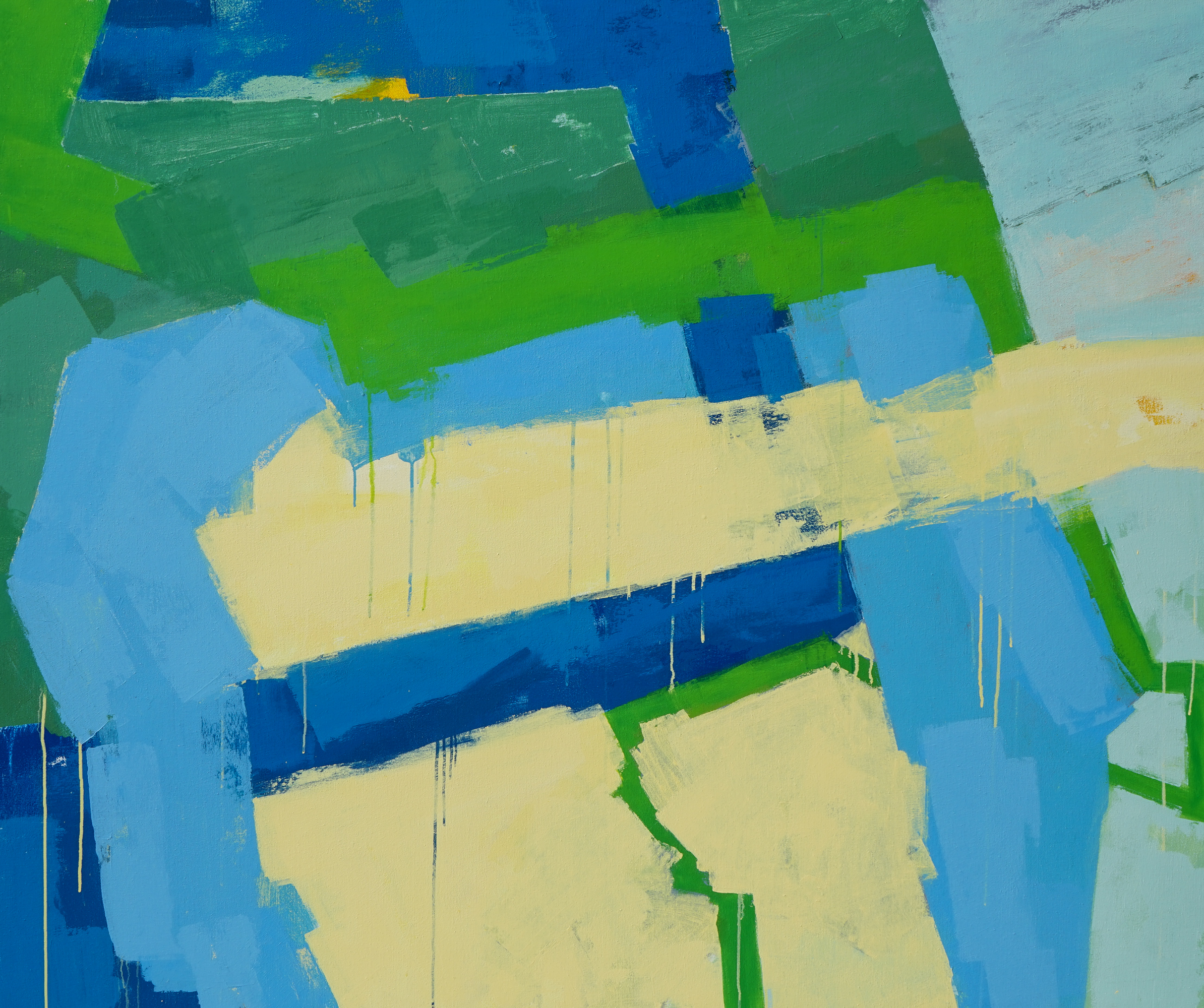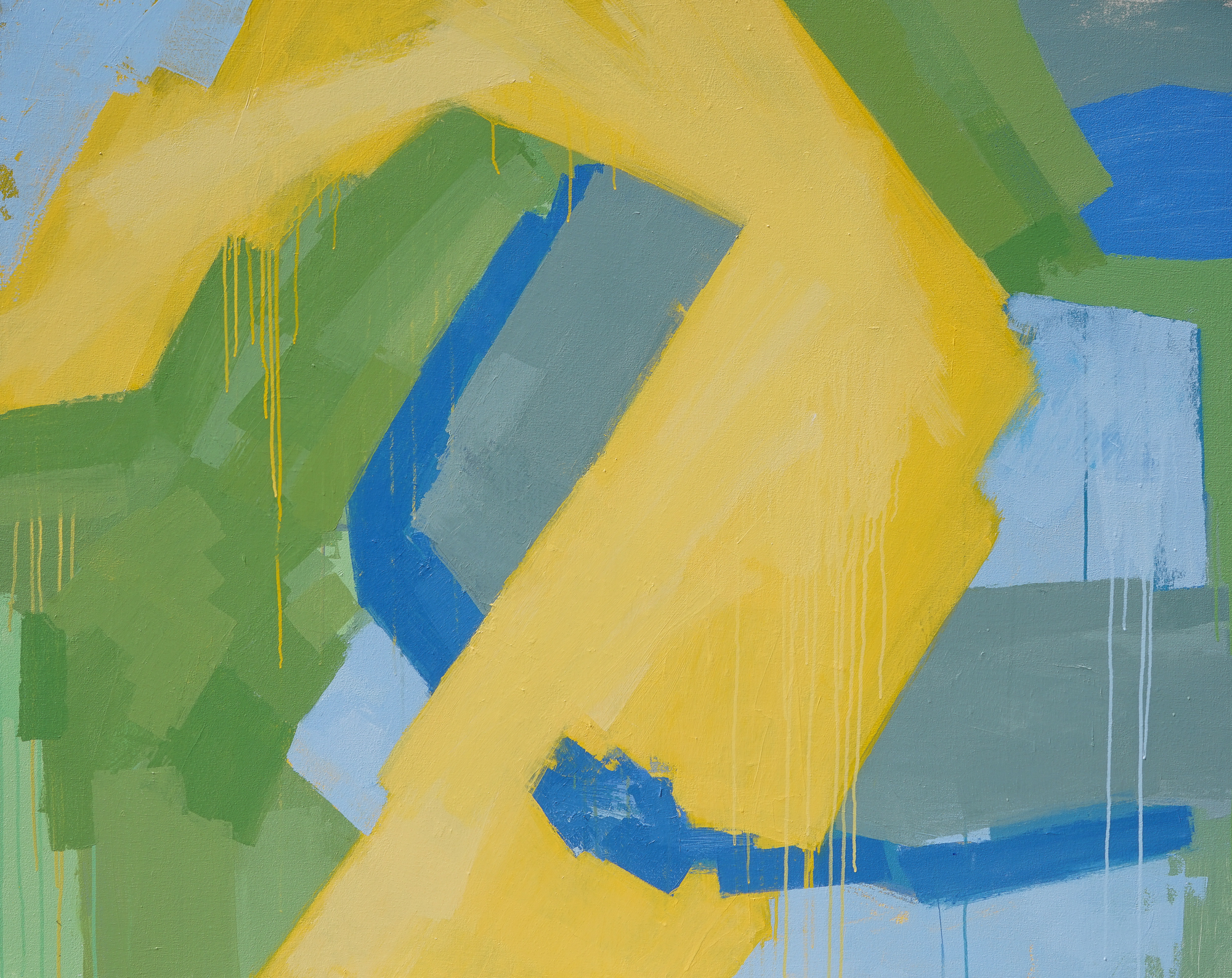 Shuckin and Jivin
Acrylic on canvas 48" x 72" (click "+" sign in top right corner to enlarge image)
The title of this painting is not a phrase I use very often, if at all. It came to me the first time I was working with this process and felt like I was boxing with it in the dark. For periods the painting seemed like it was going to be a disaster, followed by periods where I thought it was going to turn out great. Then back to disaster. Then I just stopped thinking about it and remained in the moment. My process was still taking shape and through this first painting, I realized it was more about receptivity than thinking or imagining.
Send comments to regan.artwork@gmail.com
If Time Unfolds, Who Folded it?
Acrylic on canvas 48" x 72" (click "+" sign in top right corner to enlarge image)
I often use large palette knives to make marks. The way they spread the paint on the canvas is inconsistent and somewhat difficult to control, but I use this inconsistency as opportunity. I use the dripping paint in much the same way, allowing elements of the painting to paint itself and take the direction out of my hands.
These paintings end up looking much different from the way they appeared early on. The process creates archeological layers as the painting winds its way to resolution. Getting to the end takes a willingness to destroy a lot of what I have created. I can't let myself get attached to anything in the painting until I'm very near the end. It is a practice of letting go.
Send comments to regan.artwork@gmail.com
This is No Place
Acrylic on canvas 80" x 64" (click "+" sign in top right corner to enlarge image)
The title of this painting is a reminder. I often see people viewing abstract paintings by trying to see something in them, trying to figure them out and understand what they 're-mind' them of. I would suggest leaving the mind out altogether and just experiencing what's there.
Paintings are static but because each of us changes with every moment, our relationship to the paintings can evolve. If you figure a painting out, if you decide it looks like a map or a tree, something specific and literal, you're done with it. You've formed your opinion and that's what you will continue to see. With abstract art, there's nothing there: Nothing to label, nothing to conceive. It is not a picture of a place or an object and so it is perpetually open to being experienced anew.
Send comments to regan.artwork@gmail.com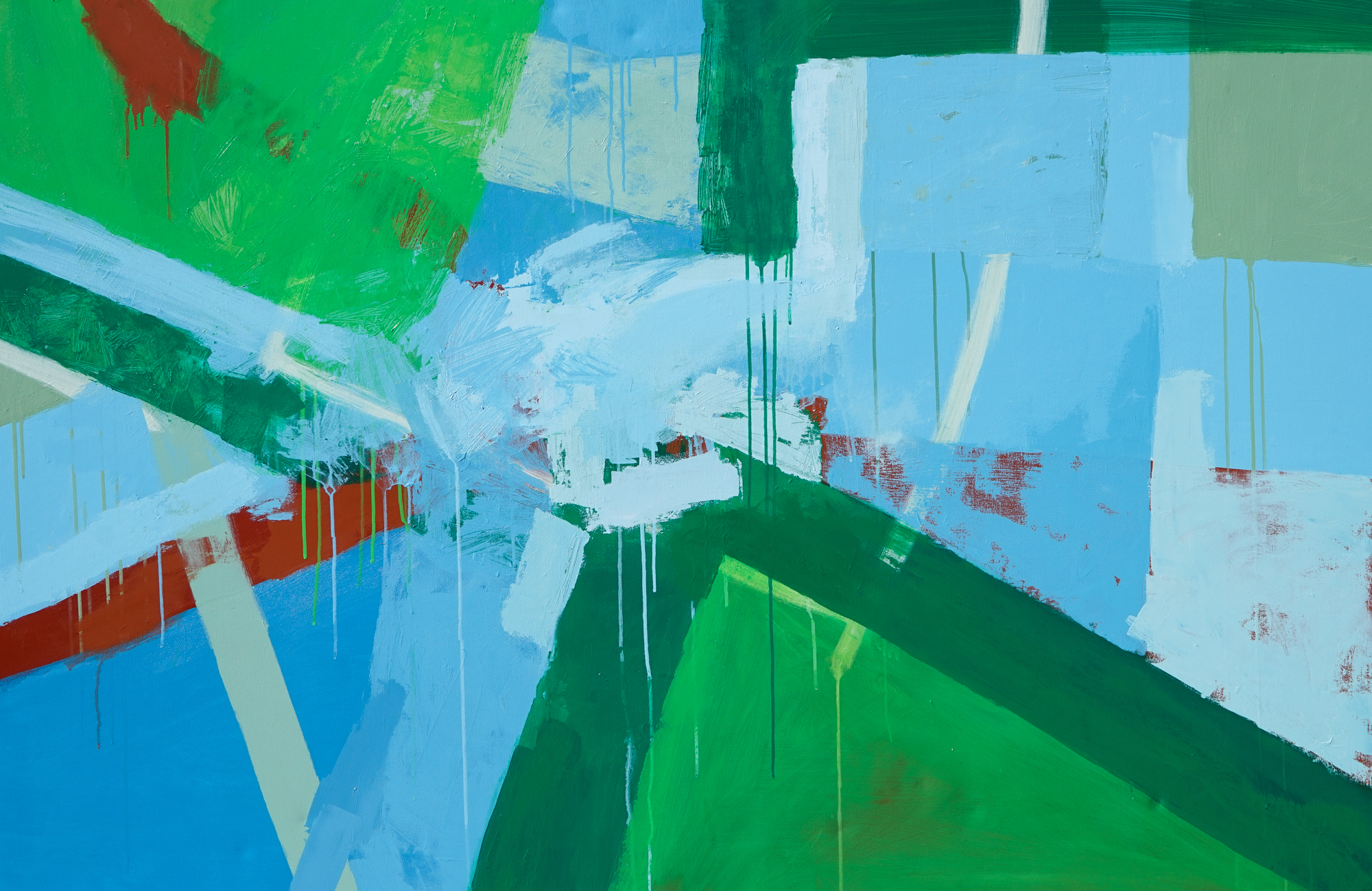 Destiny in Motion
Acrylic on canvas 48" x 72" (click "+" sign in top right corner to enlarge image)
The strong vertical and diagonal lines in this composition reminded me of a swastika. While the swastika is now strongly associated with the evils of Nazism, the first known representation of a swastika dates back to around 10,000 BCE and is associated with the Shaman. It's derived from the symbol of the cross (+). The cross was originally interpreted as representing the center point in space and time. An individual's consciousness is symbolically located at the intersection on the two lines and the lines themselves represent space and time. A swastika is a cross in motion.
Shamans, in their trance states, were said to live beyond the normal rules of space-time that us non-shamans have to adhere to. Swastikas can go in both directions— backwards or forwards. Perhaps the swastika represents a consciousness in action, one that's living out its destiny?
Swastikas are prevalent in Hindu and Buddhist art; for me, this indicates a lineage between the Shamanic and the Yogic traditions. The oldest representation of a man sitting in a Yoga position dates back to roughly 2000 BCE and is referred to as "The Lord of the Beasts" because animals surround the Yogi depicted in it. The Shaman was the mystic seer of the hunting and gathering tradition, in which animals played a large role, and were often used as spiritual guides in trance rituals. The Shaman's inward exploration came through trance induced by dance and drumbeat or simply sitting alone in isolation for extended periods of time. It seems that sitting in isolation later formalized into the Yogic practice and the association with animals was slowly washed away as human societies grew into the agriculture of the Bronze Age and modernized. With social organization becoming more complex, the single drumbeat of the Shaman grew into the complex groups of percussion instruments you can see being used today in Buddhist and Hindu ceremonies.
Send comments to regan.artwork@gmail.com
It's a Door, Walk Through It
Acrylic on canvas 48" x 60" (click "+" sign in top right corner to enlarge image)
The title of this piece is a reminder to myself. Working on this painting, I kept having the feeling I was making the wrong mark. I was struggling to stay in the present and kept worrying the piece was not going to turn out well. I would make a mark and say to myself, "God, that does not look good, I have no idea what I'm going to do with that." And then the title just popped into my head. Each mark I make on the canvas is a doorway to the next moment. Anytime I catch myself wondering what I'm going to do next (also known as 'thinking') I stop myself and say: Just walk through the door, don't wonder what's on the other side, just make the next mark.
Send comments to regan.artwork@gmail.com
There are no such things as Circles. (Just straight lines endlessly turning)
Acrylic on canvas 48" x 72" (click "+" sign in top right corner to enlarge image)
This is a long title, I know, but I had to say it all, so now I have a long story to go with it:
When I was painting this, I was reminded of a story I heard about a man who had sustained a brain injury. He was just a regular guy, but after the injury he became a mathematical savant. He went on to prove mathematically that there were no circles in the universe, only straight lines turning.
There are many stories about people tapping into incredible knowledge after a brain injury. Another story I read was about researchers who were studying consciousness through LSD. Taking LSD had brought them to the same conclusion that mystics have been coming to for millennia— that everything is one consciousness, and that the sense of being separate is actually a distortion of reality. Researchers have compared an individual's consciousness to a spigot that controls how much of the collective consciousness you experience; when you take LSD, it opens the spigot further than normal. Of course that expanded consciousness goes away after the LSD is out of your system. It turns out a head injury can open the spigot permanently.
Send comments to regan.artwork@gmail.com
Ouroboros
Acrylic on canvas 60" x 72" (click "+" sign in top right corner to enlarge image)
Ouroboros is that image of the snake swallowing its own tail. Dating back to ancient Egypt, it symbolizes cyclicality, in the sense of something continually re-creating itself. And when something continually recreates itself it is also continually destroying itself, implying death and rebirth.
To me this is one of those symbols that points to the power of intuition. We now know, because of Einstein's Theory of Relativity, that everything, even matter, is energy. (Think of matter as 'congealed energy', vibrating slowly enough to seem still and solid.)
This means the universe is just one thing, pure energy constantly recreating itself—like a snake eating its own tail it will never perish, consuming and recreating itself at the same time.
Want to know something that will really blow your mind? Scientists have added up all the energy in the universe: matter, gravity, dark matter, and the sum total of energy in the universe adds up to zero, nothing. (no-thing) If you've ever wondered how the universe could have been created from nothing now you have your answer. Mathematically, it is nothing. A five-minute video by Michio Kaku explains it here:
http://bigthink.com/videos/a-universe-is-a-free-lunch
Also note— the ancient Vedic philosophers referred to the universe as Maya, an illusion. I would sum up their perspective this way: the universe we experience is an illusion or trick that covers up true reality, which is the underlying energy that creates, destroys and recreates everything.
Send comments to regan.artwork@gmail.com
Everything is a Wave in Varying States of Crescendo
Acrylic on Canvas 60" x 72" (click "+" sign in top right corner to enlarge image)
In quantum physics, "Every possibility sits in superposition until the wave function is collapsed by a measurement." Another way of saying that is: nothing actually happens until it is observed. This means reality is not objective; the viewer, observer or consciousness involved is inextricably linked to what takes place, and affects how objects and events manifest. This quirky little video does a great job in explaining how quantum physicists came to believe this:
https://www.youtube.com/watch?v=DfPeprQ7oGc
I am interested in the convergence of Eastern philosophy and physics and it's this aspect of physics— the interrelationship of consciousness and reality— that many sources point to as a key intersection between the two.
In general, Eastern philosophers say everything you experience outwardly is a reflection of an internal reality; that your inner beliefs, ideas and preconceptions create what and how you experience life.
Quantum physics has proven there is no objective reality— there is no one reality that we all share from different vantage points. Instead we each experience different realities because our consciousness affects the world around us. Eastern philosophers agree, but take this idea a step further, stating that reality is something that exists below conceptions, perspective, or even ideas, that it is something that can be reached by removing all preconceptions and experiencing the world directly—moment to moment.
Send comments to regan.artwork@gmail.com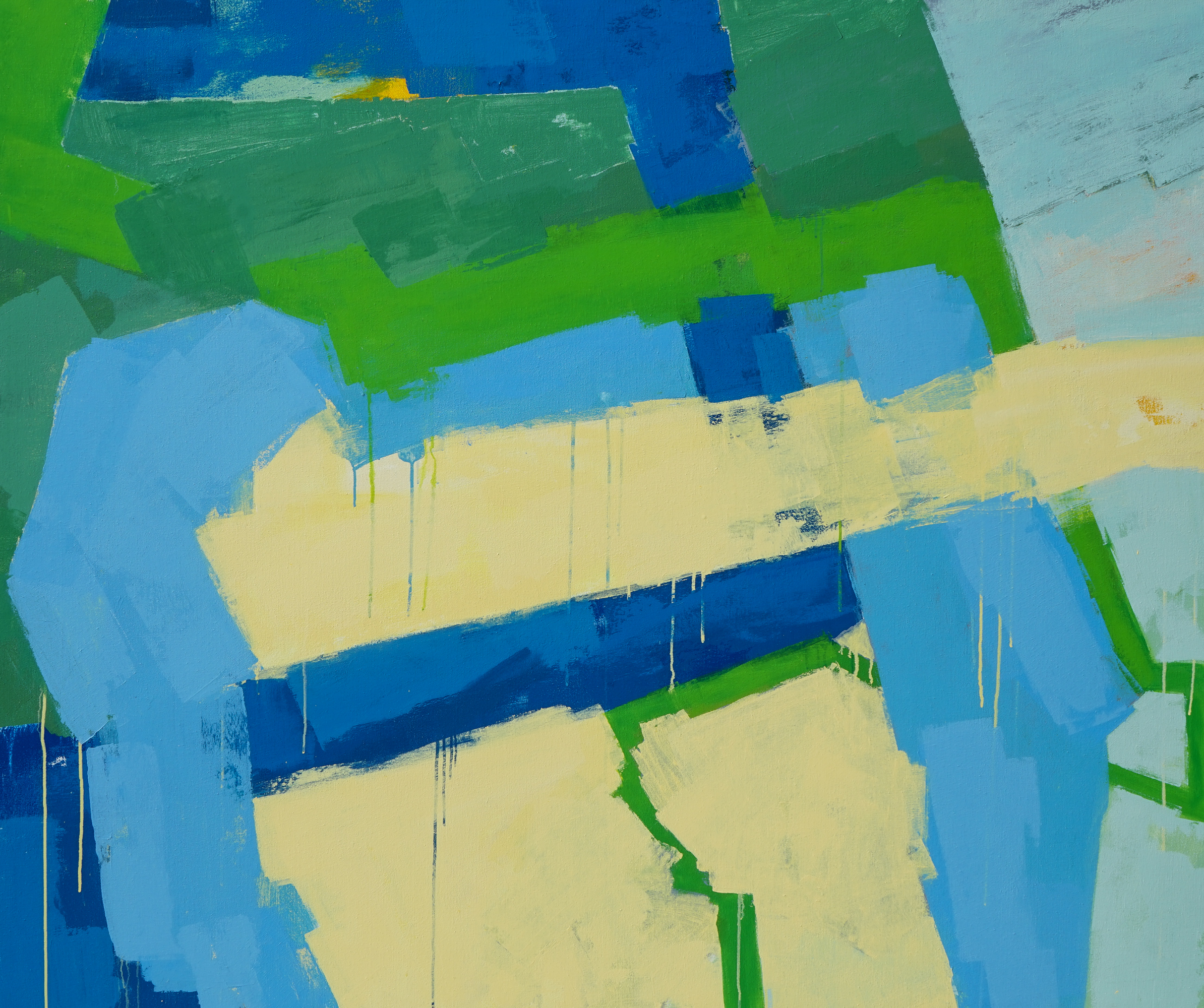 Outside the Lines
Acrylic on canvas 72" x 60" (click "+" sign in top right corner to enlarge image)
It took a while before I had a title for this painting, but when it came to me, I immediately thought of a parent-teacher conference I'd had at my son's preschool. He got great reviews overall but apparently he didn't color between the lines. My first reaction upon hearing this was to chuckle and think, "That's great! What's the problem?" But this was serious business and the teacher was adamant that my wife and I work on this with him and that he practice at home. We matched her grave concern and said we would. (Note: We love the teacher, she's great.)
My son's school is a Chinese immersion school and in reflecting about that exchange I was reminded of some reading I had done that compared and contrasted Confucianism and Taoism. I would describe Confucianism as being very rule and etiquette oriented. A metaphor often given is that people should look at themselves as stones to be continually polished: do everything by the book, know your place, conform. With perfect behavior there will be no conflict. With continual polishing you will shine, succeed and be happy.
Taoism was/is the counter culture movement to Confucianism and prizes spontaneity above all else; the freedom to be spontaneous is the root source of human joy. I would say I fall in the Taoist camp more than the Confucian. The Tao Te Ching, the primary text of Taoism, states, "A good traveler has no fixed plans and is not intent on arriving. A good artist lets his intuition lead him wherever he wants. A good scientist has freed himself of concepts and keeps the mind open to what is."
I think that quote sums up my approach to these paintings. When I paint I feel like a traveler in the sense that I am heading to a destination, although I won't know what it is until I arrive. I'm clearing my mind of any concepts I might have about my destination, and letting my intuition lead me. I only seek some internal direction, which comes in the form of spontaneity.
I would not define spontaneity as lack of control—obviously I'm not just scribbling, there is self-control involved and my response to my spontaneous impulses is measured.
Where I exert control is the key. Confucianism places it externally—here are all the rules, follow them and everyone is happy. I agree with the aspects of Confucianism that advocate perfecting yourself, being the best you can be, but agree with Taoism that the source for perfecting yourself should be an internal one. One that comes spontaneously, is accessed through receptivity, and is integrated through self-control rather than external control.
Send comments to regan.artwork@gmail.com
Cathedral
Acrylic on canvas 60" x 72" (click "+" sign in top right corner to enlarge image)
One of the fun bi-products of my process is that I get to explore the relativity of color. As any painter knows, the color you mix on the palette never looks the same as what you put on the canvas. A color looks the way it does based on what color is next to it – color is relative.
Here's an example of how this would work in my practice: in assessing a painting, I might determine to create a cool blue color for my next mark but when I place it on the canvas it looks completely different from what I imagined. With previous processes I've employed, this may be a problem but with my current process I don't change it, I live with it, or, to use a Zen term, I abide by it. Which means I accept the outcome and work with it. The result is I end up with color combinations I never would have planned.
Through maintaining a state of no preconceptions about what the painting should end up looking like, there are no mistakes, or even predictable results for that matter. It's all just part of the evolution of the painting and actually ends up blurring the line between painter and observer. Which is an essential element of why I find this process so invigorating; it places me as the observer or witness as much as the creator or painter.
Send comments to regan.artwork@gmail.com
Windows, Windows Everywhere
Acrylic on canvas 48" x 72" (click "+" sign in top right corner to enlarge image)
In my view, part of what an artist does is make 'some-thing' from 'no-thing'. This is most evident with artists that use found objects as their medium. One of my favorites in this genre is Andy Goldsworthy. He makes incredibly beautiful sculptures using only objects found in nature like rocks, leaves or sticks. But any kind of artist takes seemingly disparate items or even concepts and puts them together in away that creates a union. Which at best, can point to some deeper truth.
With my paintings you can look at each mark I make as a disparate object. As I make one mark I have no idea what the next mark will be. After making a mark, I step back and assess what I have and a kind of window opens for me that informs the next mark. (It seems there's a window for every mark and a mark for every window) In this way the unformed becomes formed and eventually all the disparate marks become 'some-thing'.
At every stage of a painting, all I see is pure potential. My understanding of 'Abstract' is that it's a 'thing' that hasn't really manifested yet so it is potential. Not the other way around – where you take a thing and then abstract it.
Send comments to regan.artwork@gmail.com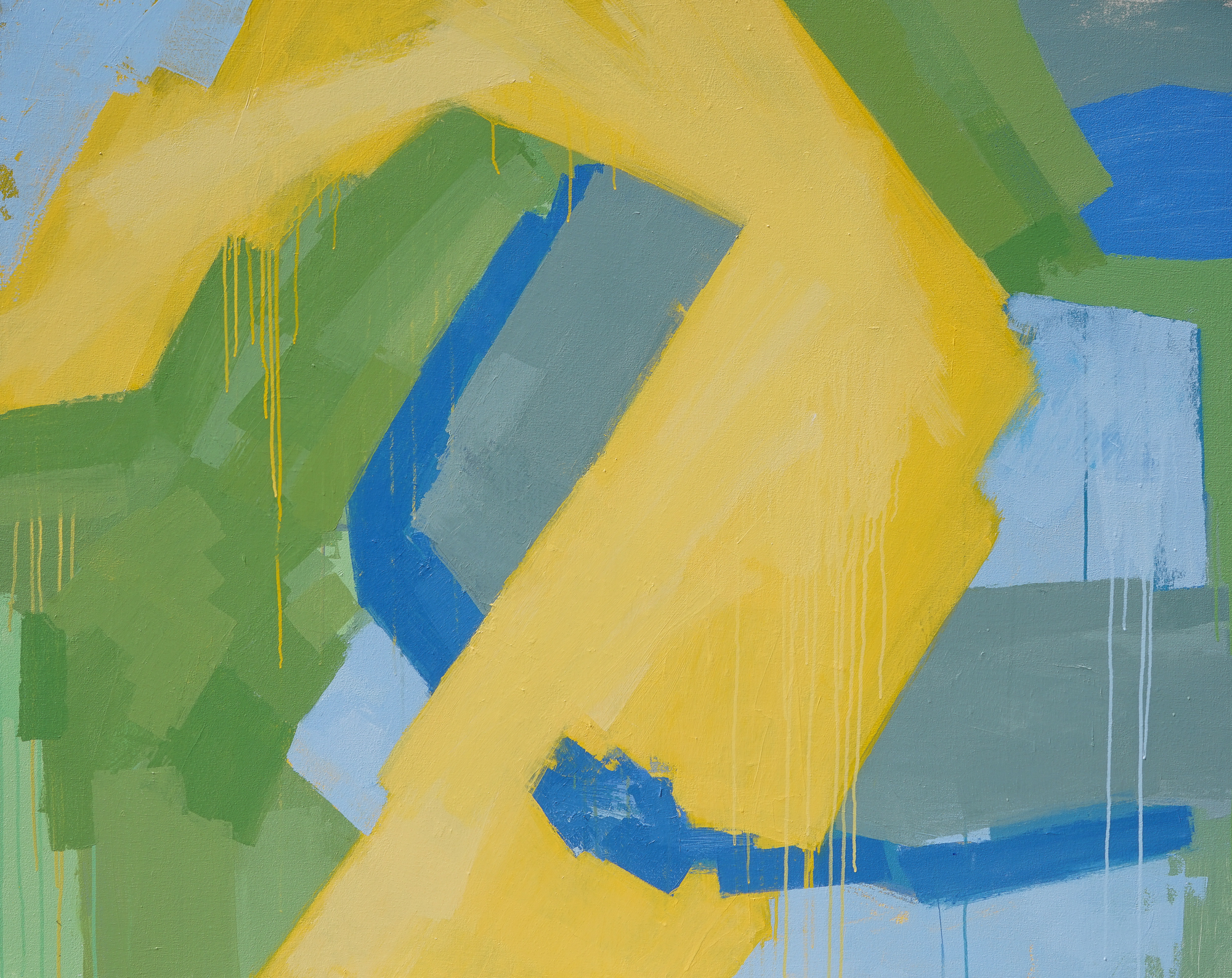 Reflecting on the Reflection
Yellow is a funny color. I don't know why but I find it challenging to work with yet I'm inexplicably drawn to it. The yellow I used in this painting was new to me. Just a color I picked up at the art store on a whim. It felt like hot summer sun. Something I was probably longing for in the never ending deluge that was our California winter this year.
The Pueblo Indians believe the Sun is God. Once, Carl Jung was speaking with a Pueblo elder in 1925 trying to get him to open up about the Pueblo religion, something they aren't apt to do unless you have their complete trust, the Elder said to Jung that the Sun was God. Jung asked him whether he did not think the sun might be a fiery ball shaped by an invisible god? The Elder was unmoved and his only reply was, "The sun is God. Everyone can see that."
There may actually be something to that. Stars create all there is. In fact, everything in the universe is actually either a star or stardust. The way it works is this: A young star burns hydrogen in a fusion reaction creating Helium. Eventually, the hydrogen runs out causing the star to condense. The added pressure creates more heat and enables the star to fuse Helium into carbon. This process continues down the line until it reaches Iron. At which point the star gets incredibly dense and gravity causes it to collapse until it becomes just a speck. Then, in a great reversal the star explodes in a Super Nova with the brilliance of a hundred million stars. During this moment of massive destruction a stupendous new round of nucleosynthesis occurs creating all the elements, spreading them throughout the galaxy like fertilizer.
This stardust gathers like dust bunnies in gravitational currents and forms the galaxies, solar systems, planets and everything else. We are in fact made of carbon atoms and breathe oxygen atoms that were created in a star billions of years ago in a galaxy far, far away.
Understanding the process by which the universe creates itself gives new credence to the fact that we call famous people "stars". That spiritualness is associated with an "inner light" and those that have achieved the deepest understanding of reality are considered "enlightened".
Stars are the alpha and omega of existence. They create the material of the universe and then shine upon it giving it existence. What the stars shine on, we see as reflection and reflect upon it. The electrons and photons that make up energy, matter and light are the same electrons and photons that make up our thoughts and emotions. Is this random or a miracle? What's the difference?
Relativity is Reality
Acrylic on canvas 36" x 72" (click "+" sign in top right corner to enlarge image)
One of the many things the Theory of Relativity confirms is that there is no still point in the universe that we can use as an anchor for an objective reality because everything is moving. The only way to understand an objects motion is by relating it to a curtain vantage point called an "inertial frame of reference." This vantage point is subjective. Just like everyone's vantage point is subjective.
For me, the philosophical implications of this are immense. It scientifically proves what Eastern mystics have been saying for millennia – that we can only truly know our own experience. That's it. That the still point in the universe for each of us, is ourselves. If we can stop bouncing around from emotion to emotion, from idea to idea, from hair splitting measurement to hair splitting measurement of everything material, we can experience reality as it truly is. I for one am curious as to what that would be like…